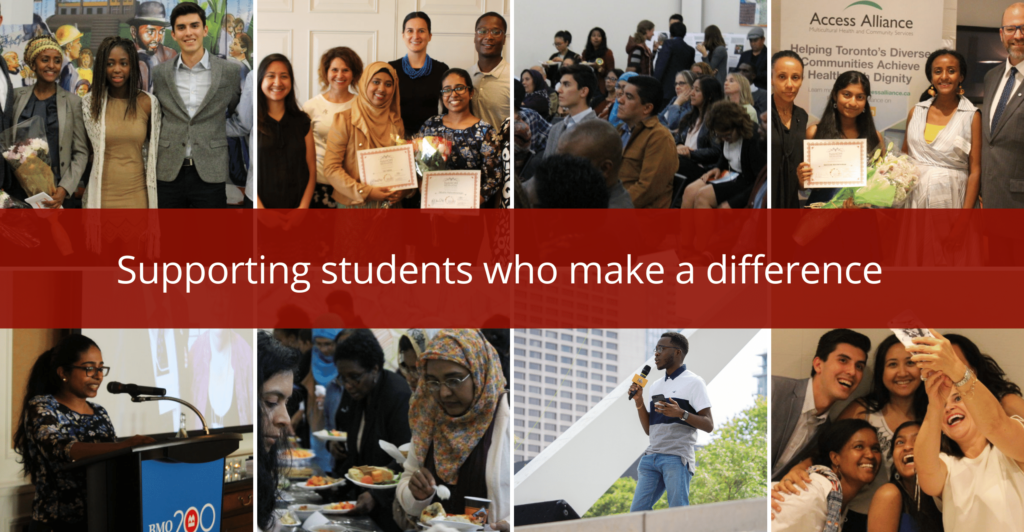 Thank you to our donors!
The Scholarship fund is made possible by the generous donations of corporations, foundations, and donors like you. We are especially grateful to BMO for helping us establish the Nahom Berhane Scholarship for Leadership and Inclusion in 2016.
Our Scholarship recipients have dedicated countless volunteer hours to community service and leadership at the schools they attend and in their local communities. Their contributions include promoting access to education and anti-racism, raising awareness about homelessness, facilitating discussions about mental health, and amplifying the voices of Black, Indigenous and other racialized communities.
They're pursuing studies in health, business, law, the arts and a myriad of other fields with dreams of building schools, working in public health, mentoring youth, becoming nurses, justices of the Supreme Court, lawyers and teachers. What they all have in common is their commitment to making change and promoting social justice, equity and inclusion.
Please donate today and help us support young leaders in reaching their educational goals. The Scholarship is in trust with Access Alliance. When you land on our donation page, please select Nahom Berhane Scholarship as your fund designation.
In partnership with Access Alliance Multicultural Health and Community Services